People with different budgets and tastes can find stores and markets that fit their needs in Singapore. There are a lot of shopping malls and shopping districts on this island nation. This urban area has both shopping malls and parks and food courts close by, which makes it easy to get what you need. You can look around boutiques or go to a bigger store to see what they have. Singaporeans like to shop, and this is reflected in the retail landscape of the island nation.
From upscale, classic shopping malls to cutting-edge, lifestyle meccas and pleasant discoveries, this article will explore some of the best locations to shop in Singapore.
Before we continue, don't forget to check our findings on the The Best Luxury Hotels to Stay in Singapore 2023. Let's continue,
Orchard Road - Vibrant Shopping Experience
The 2.2 kilometers of mega malls is without a doubt Singapore's most popular place to shop. Orchard Road is a great place to shop because it has more than twenty malls. Every big-name designer you can think of has a store in these shiny shopping malls. This store has everything you could ever want or need, from cheap clothes and gadgets to designer brands and home decor.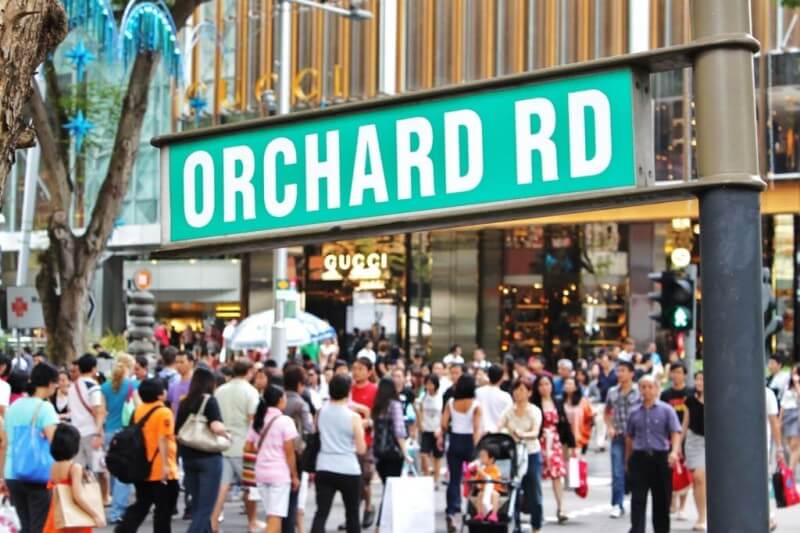 Singapore has so many malls that it will be hard for you to choose where to go shopping. When you think about all the bars, lounges, and restaurants, it's hard to think of what else a shopping center could offer. The outdoor cafes and bars that line the streets and the street performers and buskers will make your time here one of a kind.
Popular Places to Shop In Orchard Road
Most stores and markets open at 9 or 10 in the morning and close at 10 at night. But almost all shops in Singapore stay open until 11 p.m. every Saturday.
Marina Bay - Luxurious Shopping Spree
Marina Bay is a great place to go shopping in Singapore because it is home to some of the city's most popular shopping malls. Each of these shops is a great place to stock up on luxury items or do something different with your shopping time in Singapore. You can find anything you might need here, from obscure local labels to well-known names from all over the world.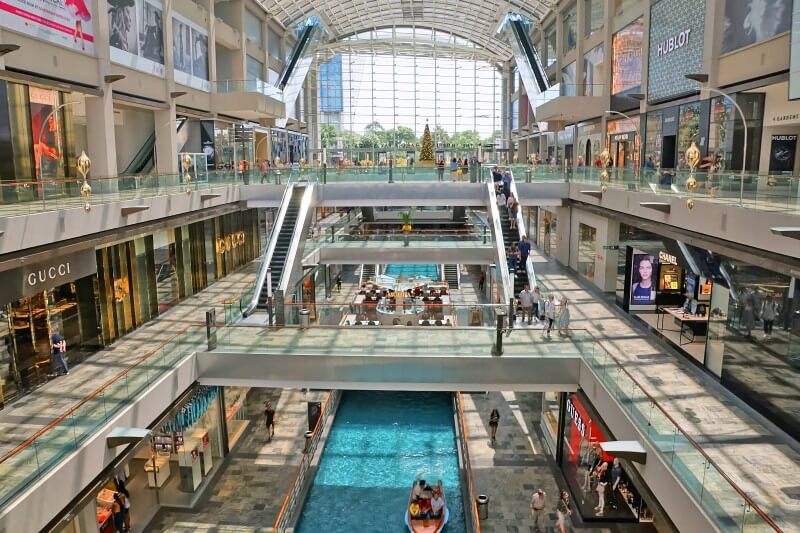 The Marina Bay Sands Complex in Singapore is a sign of the city's success and a beautiful addition to its skyline. After a busy day of shopping, a gondola ride on this canal is the best way to relax and unwind. If you like good food, there are Michelin-starred restaurants all around the mall. Pick one and enjoy a meal made by some of the best chefs in the country.
Popular Places to Shop In Marina Bay
Most malls are open from 10 a.m. to 10 p.m., but The Shoppes at Marina Bay Sands are open every day until 11 p.m., and Friday and Saturday until 11:30 p.m
Chinatown – Win the Prices
The Chinatown Night Market goes past Pagoda Street, Sago Street, and Terengganu almost every night. Explore the busy market and the many stalls where you can buy real Chinese goods like candles, artwork, clothing, and accessories, as well as quick bites of cheap Chinese food. Some of the hawker-style specialty foods you can get are satay, chicken over rice, dim sum, laksa, and stingray. The prices of the food items, which range from SGD 5 to SGD 10, are shockingly low.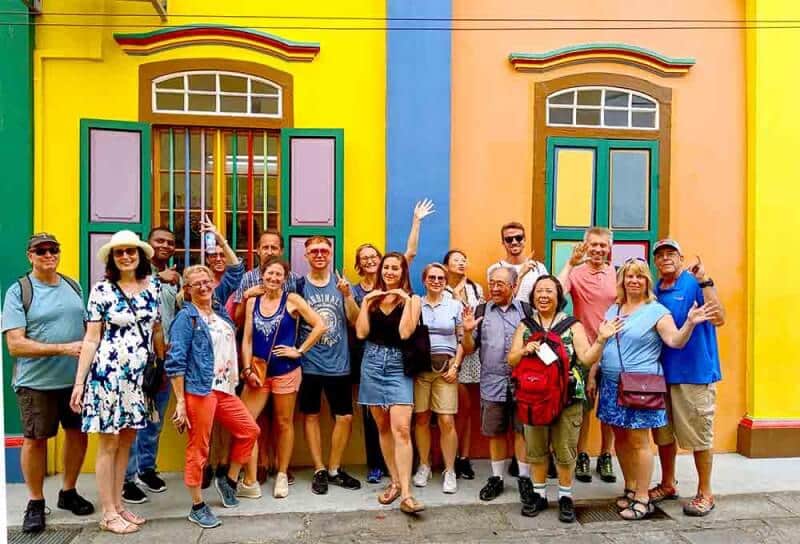 The answer to the age-old question of where to shop in Singapore has always been Chinatown. The best things to buy in Singapore's Chinatown are souvenirs and gifts to bring back home. You should also look for traditional Chinese souvenirs like red paper cut-out lanterns, beautiful silk robes, hand-made fans with beautiful calligraphy designs, and amazing lacquerware. All of these are great things to bring home from Singapore as mementos.
Popular Places to Shop In Marina Bay
Some stores are open until 6 p.m., while others close at 11 p.m.
Little India – Sari, Spice, And More
Little India is on Serangoon road, and it is easy to find because of its bright neon signs, strange smells, and lively street performers. As Singapore's most colorful and bright shopping district, it's a must-see for anyone who likes to shop while traveling. Because the roads connect to each other so well, getting around town is easy. There are a lot of shops here that sell everything from real Indian clothes to strange spices and plants. It also has a good number of Indian restaurants for people who miss the tastes of home.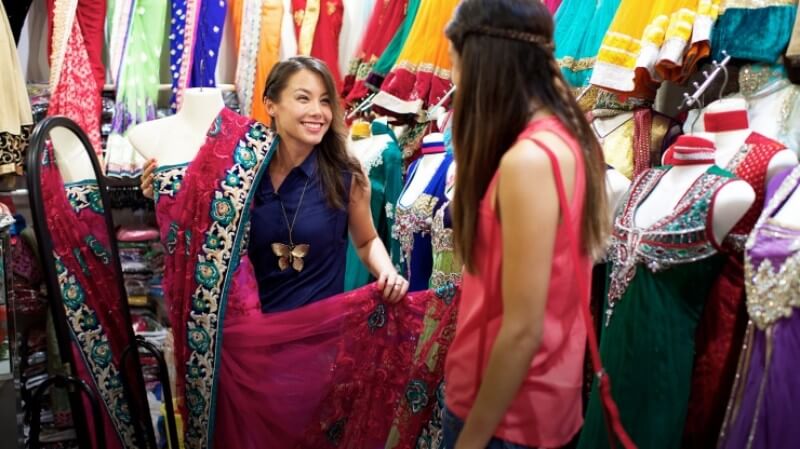 Indian tourists who want to buy real Indian clothes should go shopping in Little India. The Mustafa Center department store is an adventure in and of itself because it is open all the time. Don't forget to check out the shops, boutique clothes, and handmade goods. This is a great place to bargain, but you shouldn't bargain if you don't plan to buy anything.
Popular Places to Shop In Little India
The Mustafa Center is open 24 hours a day, but most of the other shops close at 10 p.m.
VivoCity – Lifestyle Shopping at Best
The HarbourFront is home to one of Singapore's biggest shopping malls, VivoCity. It is known as the best place to shop, have fun, and live well. There are fifteen movie theaters now, as well as a playground, an art gallery for grownups, a wide range of restaurants and bars, a rooftop amphitheater, and what seems like an endless supply of outlets and designer shops. When it opened to the public in 2006, VivoCity started drawing shoppers away from the chaos of nearby Orchard Road. This could be because of the mall's huge size, its unusual Flintstones-style facade, its waterfront location facing Sentosa Island, its unique wavy structure, or its clever advertising.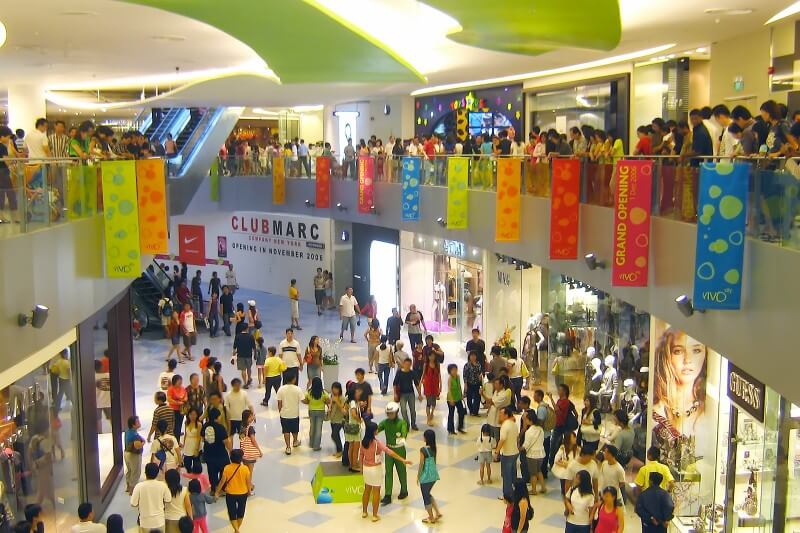 If you need some time to yourself, the top level of the building has an amphitheater and a sky park where you can relax and take in the beautiful view of Sentosa.
Haji Lane – Boutiques Feast
A trip to "indie" Haji Lane, with its old-fashioned architecture and shophouses, is an unforgettable experience that no tourist should miss. In this Arab Quarter, there are a lot of cute boutiques and antique shops with a lot of old things, like cameras. You can find all kinds of things here, from bright colors and strange patterns to weird designs. Without a doubt, it's the best place in the country to find truly unique items. Shopping is one of the most romantic things to do with a date in Singapore.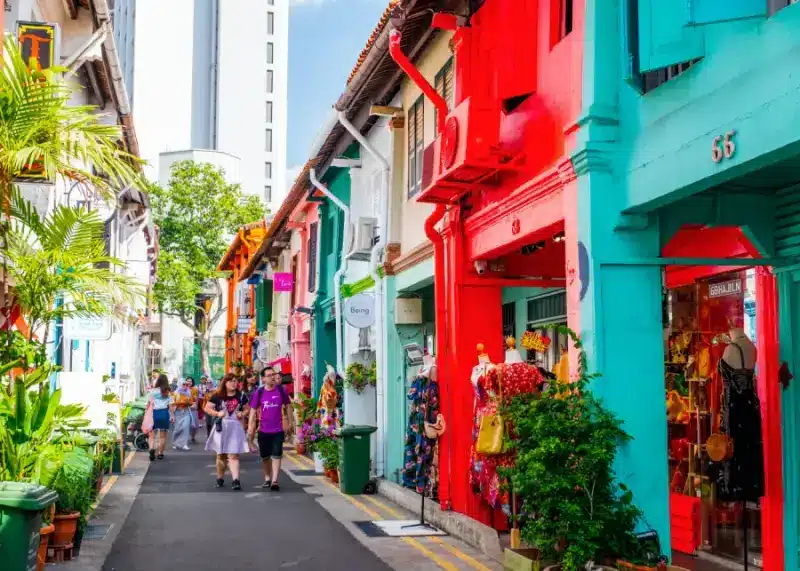 If you walk down the street, you'll see friendly shop owners, old storefronts, and interesting places to eat. Haji Lane is a good place to go shopping in Singapore if you want to see a lot of different kinds of people.
Popular Places to Shop In Haji Lane
Most of the shops on Haji Lane open between 11 AM and 8 PM.
Clarke Quay – Dream for the Fashionistas
Most people think that Clarke Quay is the center of Singapore's nightlife because it has so many cool clubs and restaurants right on the water. Most people don't know this, but this area also has a lot of exciting shopping. Along the lively streets of this beautiful riverside neighborhood, you'll find a lot of one-of-a-kind clothing shops, art galleries, and cafes. Tourists can spend the day at one of the nearby shopping malls looking at lifestyle shops, fashion items, and entertainment areas. Walk along the quay, where there are lots of cute shops and pushcarts with handmade ceramics, wooden sculptures, and costume jewelry.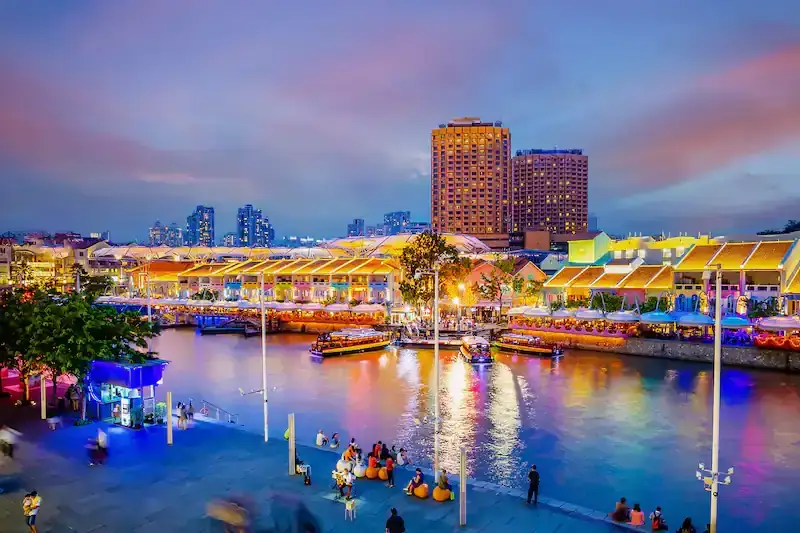 The Clarke Quay and Riverside district is popular with tourists for a good reason: it is one of the most beautiful and photogenic parts of the city. Here, where you can find high-end brands from all over the world, is the best place to go on a big shopping spree.
Popular Places to Shop In Clarke Quay
Most stores are open between 10 AM TO 10 PM.
IMM – Clothing and Home Decor
International Merchandising Mart Mall is a CapitaLand Mall Trust outlet center in the Jurong East neighborhood of Singapore. One of Singapore's biggest outlet malls, this shopping center, is a paradise for people who love to shop. Most of the mall's tenants are the 85 outlet stores, 215 regular shops, and 60 places to eat and drink. Because there are so many outlet shops, it's easy to find brands like Calvin Klein Jeans, Coach, Furla, Converse, Clarks, City Chain,Hush Puppies, Juicy Couture, Michael Kors, Kate Spade, Club 21, TUMI, New Balance, Nike, Adidas, Puma, Onitsuka Tiger, Winter Time, Timberland, and G2000. Along with the big name brand stores, there are a lot of smaller stores that sell everything you need to decorate your home.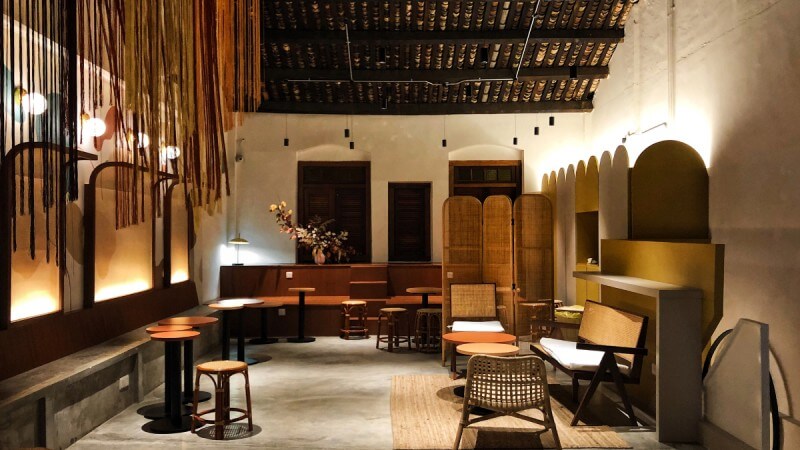 The IMM mall is one of a kind because every day of the year, items from different stores are on sale.
Bugis Street – Best Flea Market
The Bugis Street Market is a popular place to go shopping in Singapore. It is between Little India and Marina Bay, in the north and south, respectively. This is the best market in the country to go to if you want to buy gifts, accessories, clothing, technology, home goods, or beauty products. At this friendly market, you can spend hours looking at the different goods and trying out the different foods.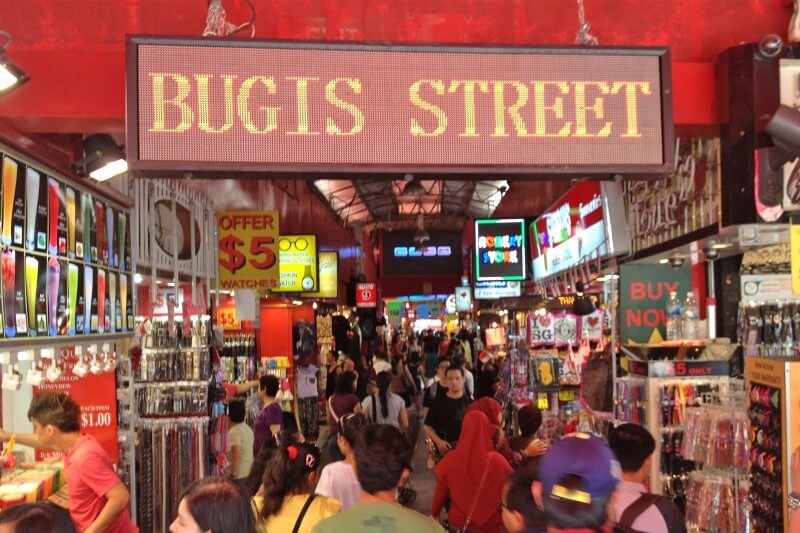 If you're on a tight budget, Bugis Street may have a few shops that aren't too expensive. Mustafa Centre and Kailash Parbat are two stores that sell a wide range of goods at prices that are easy on the wallet. Bugis Street has been a popular place for people who like to shop because it has low prices. You can get good everyday clothes here for less than S$10. You can also buy watches, accessories, and small items for less than S$5.
Popular Places to Shop In Bugis Street
Open from 11 AM to 10 PM every day
Holland Village – Hold and Buy
Holland Village, Singapore's self-proclaimed "Bohemian Enclave," is a cultural melting pot where European influences blend with traditional Asian practices. Everything from clothing and accessories made in Asia to novelty items like Crocs to arts and crafts to rugs and antiques and even furniture may be found here.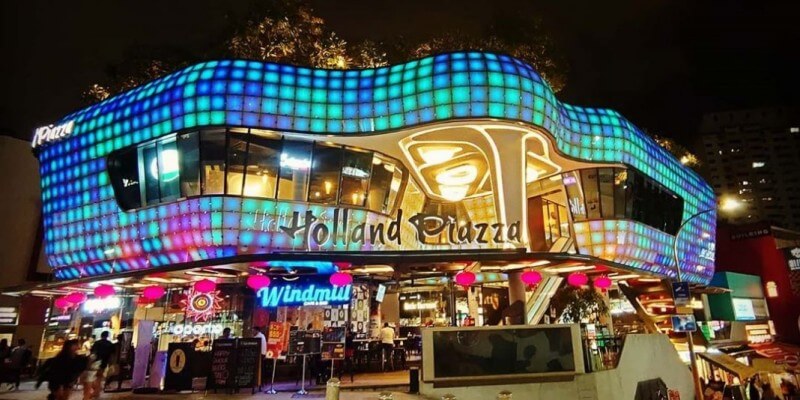 The large apartment buildings in this colonial neighborhood blend in well with the energy of the ancient open streets, which are now home to trendy cafés, trendy clothing boutiques, and popular lifestyle retailers. Here you may find anything from Made-in-Asia clothing and souvenirs to creative handicrafts and home furnishings at the unique and interesting businesses. There is something for everyone in their extensive assortment of table lamps, wall hangings, picture frames, ethnic scroll paintings, and silk cushion coverings. Unique pieces of ceramics and wicker and cane homegoods are also available as unique mementos.
Popular Places to Shop In
Open from 10:30 AM to 9 PM every day
City Plaza – Great Shopping Experience
City Plaza is Singapore's oldest mall and the best place to find great deals on goods. The clothing store takes up an entire floor of the mall, and it sells a wide range of affordable tops, bottoms, and dresses. City Plaza stores also buy clothes from people who want to make a quick buck by selling their gently used clothes. Many shops and bloggers in the fashion industry buy wholesale from City Plaza because the prices are low and the goods are good. Prices at City Plaza are often far lower than those at online boutiques, saving you as much as 50 percent.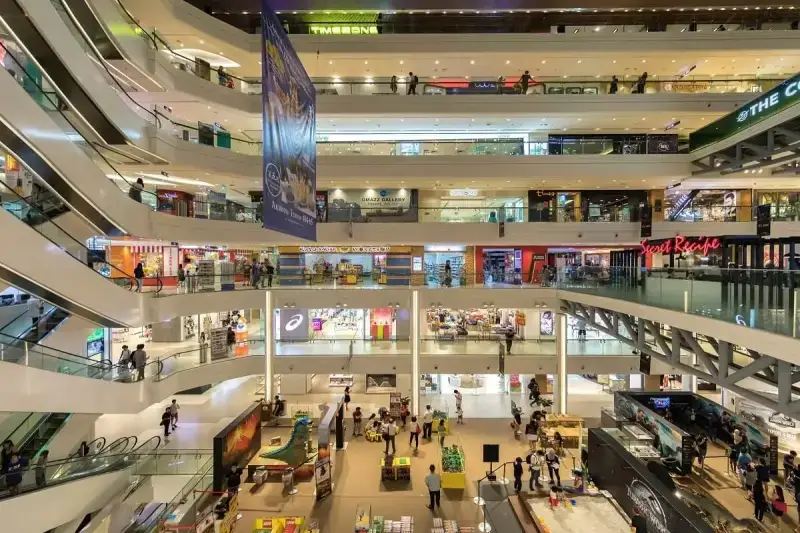 There are shops selling everything from clothes to electronics on all five floors of the plaza. When you're tired from shopping, take a break and eat at one of the many great places in the food court.
Popular Places to Shop In
Lucky Plaza – Experience New-Age Shopping
The "Lucky Plaza" stands out like a jewel in the crown of the beautiful island country. It is in the rich area of the Orchard Road, which makes it stand out even more. The small market is known for selling a wide range of high-quality goods at low prices. This makes it one of the best places to shop on a budget in Singapore.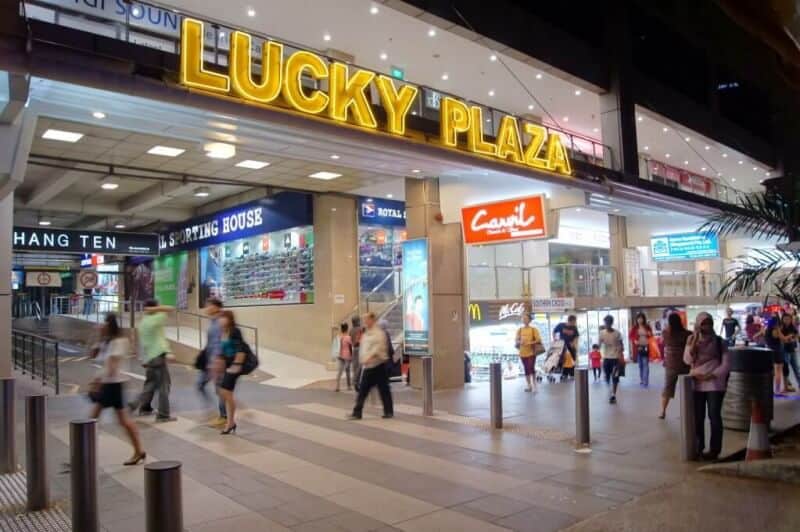 You can buy almost anything here, from cheap knockoffs and souvenirs to name-brand electronics, clothing, and accessories at reasonable prices. They also sell some nice perfumes. Keep an eye out for the small beauty shops on the other side of the mall. They sell small samples of the most expensive perfumes in the world. Singapore is known for its orchid-infused fragrances, which make the best gifts for your loved ones. If you're looking for something "uniquely Singapore," be sure to ask for these.
Scape Underground – Youth's 1st Choice
At Scape Underground, you can find some of the best deals in Singapore. SCAPE is a place for young people to get help, and it has a shopping center for its residents. This building was built to help people get better at what they do. Young Singaporeans work in the shops here, and everything is priced fairly. Customers of all ages can find affordable, "young" and trendy items here. Most of the time, trendy clothes cost between $10 and $15. We all know that students value their time and money, which is why everything in SCAPE Underground is made with them in mind.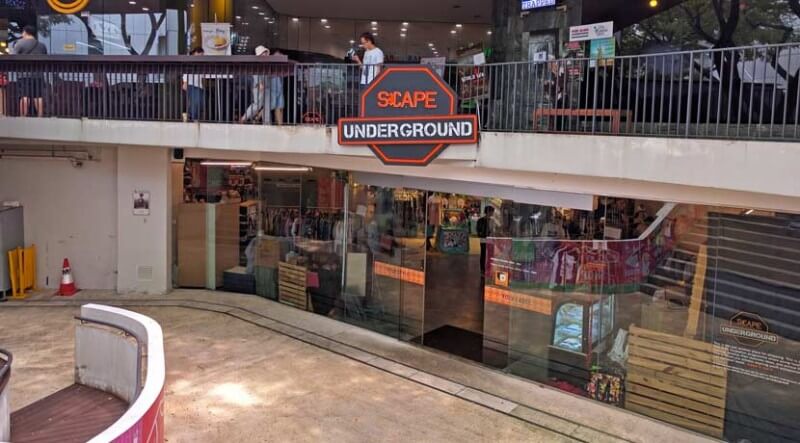 The store is part of the SCAPE Company, which was started with the goal of giving young people more power. Because of this, the prices are kept low to attract students. Most young people depend on their parents for money, so SCAPE Underground is a great idea.
Anchorpoint Shopping Centre – Budget Shopping
Anchorpoint Shopping Centre is the place to go if you want to save money on high-end designer clothes, shoes, electronics, and more. During the Centre's weekly deals, you can get the best in fashion for as little as SGD 5 per item. There's also a pharmacy, grocery store, laundromat, and food court in the area, which makes it a "central" place for many businesses. If you want to do the best shopping in Singapore, you shouldn't miss Anchorpoint. Anchorpoint is a shopping paradise that's a well-kept secret among fashion-forward locals. It's also the best place to go shopping if you want to relax and enjoy yourself. Customers rarely have to wait in long lines to get help from a salesperson or to use a fitting room.
This two-story mall has everything you'd expect to find in a modern shopping center in Singapore, like a supermarket, hair salon, clinic, food court, fast food restaurants, ATMs, and a laundromat.
Popular Places to Shop In
Tanglin Mall Bazaar – Retro And Vintage Shopping
What makes Tanglin Mall Bazaar so special is that it has a wide range of unique goods. It sells a lot of old media formats and products, like CDs, vinyl records, and clothes with a retro look. Tanglin Bazaar is one of the best places to shop in Singapore, and because it is so unusual, it is rarely crowded, making it a great place to look around. This bazaar is different from others because it sells old things like CDs, vinyl records, clothes, and toys.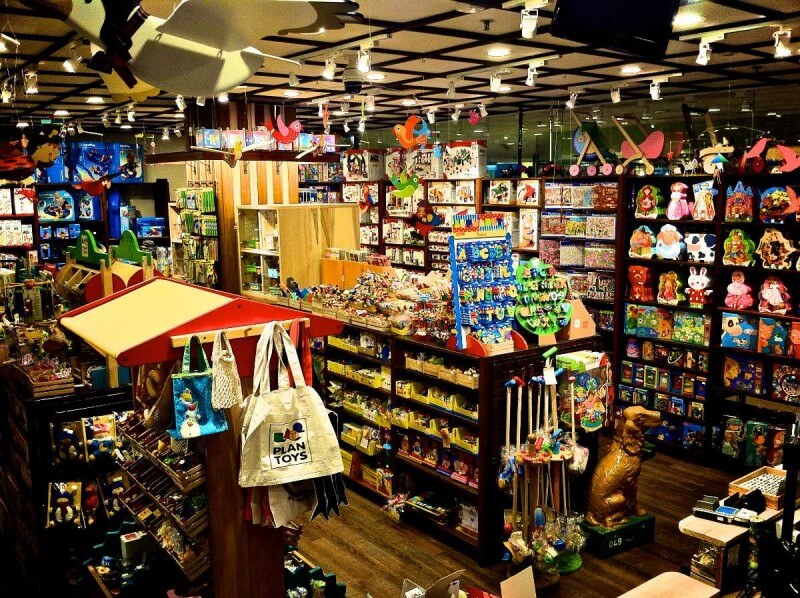 Tanglin has a few cafes and bakeries, as well as a food court that is about the size of a football field. Surprisingly, there don't seem to be that many people in the mall, and it's a nice place to hang out. It is one of the least expensive places to eat in the area, with food starting at about SGD 7. You can even find modern art and costume jewelry there.
Popular Places to Shop In
In recent years, Singapore's central business district has become a popular place to shop and eat at high-end places. People in Singapore are learning about and going to new places to shop and live because of this change. Over the next few years, there will be more plans for shopping centers. Singaporeans now have access to a wide range of shopping options that have never been seen before.
People who want to find upscale boutiques, high-end stores, and other great places to shop will enjoy walking around their local shopping districts and discount shopping malls.