What is SG Arrival Card and how to apply?
The Complete Guide of Singapore Arrival Card
If you are a foreigner and planning to visit Singapore, you must obtain an SG arrival card. This document is required for all visitors, regardless of their nationality.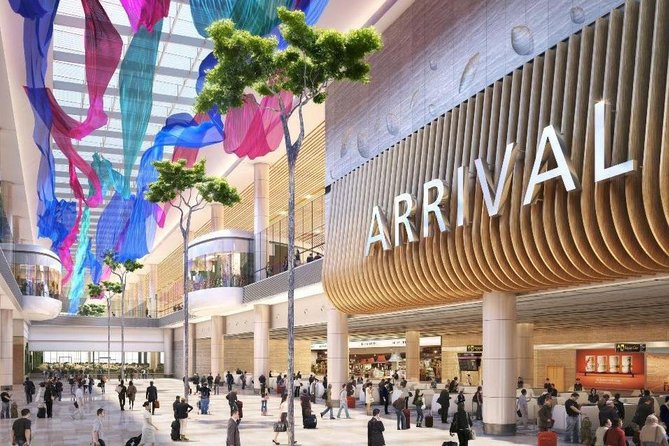 Get Your SG Arrival Card Now
Make Your Singapore Trip Easy!
This guide will walk you through the process of applying for a Singapore arrival card. We will also provide tips on making the process as smooth as possible. Let's get started!
You can also watch the following video to learn about it:
Subscribe to get more updates
A Singapore Arrival Card or SG Arrival Card (SGAC)​ is a health declaration form required by Singapore immigration, that all visitors to Singapore must complete. The card is used to record your particulars, trip details, and health declaration and to determine your eligibility for entry into Singapore.
The information required on the card includes your name, date of birth, nationality, passport number, last visited places, the purpose of visit, and a few consents.
When you arrive in Singapore, show your documents and Arrival Card acknowledgment (a soft copy is also acceptable).
How is the Arrival Card related to Singapore Visa?
Please acknowledge that an SG Arrival Card is not a Singapore Visa. Singapore has laws that require citizens from specific countries to have an SG Arrival Card and also a Singapore visa before entering the country.
When to Apply for a Singapore Arrival Card?
The card must be filled in completely and accurately within three (3) days before you arrive in Singapore. You may be fined up to $10000-$20000 or sentenced to imprisonment for six months to 12 months if you are guilty of providing false or incomplete information on the card.
Which Country needs Arrival Card?
How to Apply for a SG Arrival Card?
You will need to provide the following details,
You can pay the fee by credit card or debit card. Once you have completed  the payment, we will send you the approved arrival card.
Can I change information if I make a mistake on my Singapore Arrival Card form?
If you want to change any information on the Arrival Card application, you are required to email us at [email protected] within Six (06) hours of application submission or earlier. Because if the application gets approved, you cannot change any information afterward. In that case, you have to submit a completely new application for the SG arrival card.
How Long Does it Take to Process Arrival Card?
You need to apply for an SG Arrival card before three days (72 hours) of your arrival in Singapore. Once applied, your SG arrival card will be delivered to you within three days of your arrival.
How Long is a Singapore Arrival Card Valid For?
To enter and stay in Singapore, you must submit a Singapore Arrival Card for each trip. An Arrival Card is only valid for a single entry from the date you have provided in the arrival card application form.
What happens if you don't fill out your Singapore Arrival Card correctly or forget to bring it when you arrive in Singapore?
If you come to Singapore without a properly filled out Singapore Arrival Card or forget to bring it with you, there may be consequences. There will be ICA penalties for late or inaccurate submissions as well. This is what happens if you don't fill out your Singapore Arrival Card and forget to bring it is:
SGD 10,000 maximum fine and/or up to six months in jail
Possibility of a penalty of up to SGD20,000 and/or up to a year in jail (subsequent offense)
Putting forward the wrong details,
The maximum penalty is upwards to SGD10,000 and/or 6 months in jail
Possibility of a penalty of up to SGD20,000 and/or up to a year in jail (subsequent offense)
Are there any other important things that people need to know about the Singapore Arrival Card process when they arrive in the country for the first time?
Here is some other important stuff you should definitely know before the Singapore Arrival Card process.
The Singapore Arrival Card is good for 30 days. Avoid unnecessary wait time at Singapore's immigration checkpoints by applying for your Singapore arrival card at least 3 days before your scheduled arrival.
If you have your passport and travel schedule with you, the Singapore arrival card application form should only take you around 5 to 7 minutes to complete. You can submit an application for yourself or a group of up to 10 persons. Within one or two business days, you will get a PDF of your Singapore arrival card through email.
Preparing the necessary paperwork and documents before traveling to Singapore is essential. Getting an Arrival Card is a necessary step in enjoying a trouble-free stay in Singapore, and we hope this guidance has been helpful in that regard.
Check out the details video about how to apply for SG Arrival Card and other entry procedures for Singapore.
Frequently Answered Questions on Singapore Arrival Card
Can an Applicant submit the Arrival Card for multiple trips in one go?
The maximum number of trips you can submit is three per individual submission.
How does Applicant receive the SG Arrival Card?
Once you submit the arrival card application and pay the fees, your arrival card will be emailed to you on your corresponding email.
Can an Applicant submit an Arrival Card on behalf of someone?
Yes, you can submit the Arrival card application on behalf of someone. However, make sure to fill out your information correctly and be honest, as there are penalties for providing fake information!
How does an Applicant Update or cancel/ delete the earlier Arrival Card after submitting a new Arrival Card?
You are not required to cancel or delete your declaration. If there is any change in the information submitted earlier, you will need a new Arrival Card with updated details but only submit this if it differs from what was previously filed!
How does an Applicant withdraw the submitted Arrival Card if decided to cancel the trip?
You do not need to withdraw or void any submissions if you decide to cancel the trip. However, you need to submit a new Arrival Card application if you plan for the trip after the provided date in the previous Arrival Card.
If an Applicant is an IPA holder then what option should they select on SG Arrival Card?
If the applicant is an In-Principle Approval (IPA) holder issued by ICA/MOM, Then they are also required to submit the arrival card information as well as health declaration as a foreign visitor
Does the applicant need to print the Arrival Card?
When you will submit the necessary information and pay for the service fees, you will get your SG Arrival Card in your corresponding email. You will receive a Disembarkation/Embarkation (DE) number along with it. Please be acknowledged that the email should be sufficient enough. When you arrive in Singapore, please show the acknowledgement email on your smart device to the officer at immigration. You can also take a printout and present it.
What should the applicant indicate for "Mode of Travel" if they are entering Singapore by foot?
If the applicants are traveling by foot, it is best to use the BUS option and enter "NA" under Vehicle Number.
What if the applicants don't know the departure time from Singapore?
It is important, to be honest, and accurate in all that you say. If Singapore Govt. find out later on something different than what was said, then there could potentially be consequences for both yourself as well as others involved with the situation at hand.

If you're planning on visiting Singapore for a short period, then your visit must be connected with an onward or return ticket where applicable.

If you hold an SG In-Principle Approval (IPA) letter, provide a departure date that is 30 days from the arrival in your city/port of embarkation whichever comes first.
Is it necessary for the applicant to provide contact information on the Arrival Card?
Upon successful submission of your Arrival Card, we will send an acknowledgment message to the email address you have provided. This is necessary so that should there be a pandemic situation and contact tracing must take place; our system can trace all information related to this card's registration process back onto its source!
When visiting Singapore, it is important that you have the correct documentation and information ready. This guide will help walk you through the process of applying for an Arrival Card so that your time in Singapore goes smoothly. Be sure to read all instructions carefully and provide accurate information, as falsifying any details could lead to penalties. If you have any questions or concerns, don't hesitate to reach out to us for assistance!