From the Singapore Arts Festival at Marina Bay Sands to the Singapore Food Festival, which celebrates the city-food state's traditions, festivals are a big part of life in Singapore. But what are the most fun celebrations in Singapore?
If you are planning to visit Singapore, you might be interested to know about the various holidays and festivals in the country. It is a delight to visit Singapore during the holiday times, as the city is sparkling and bustling with warmth and tourists all around.
Among the many popular festivals, let us talk about a few which you might find of interest. Find out when to go to Singapore so you can take part in the city-many state's events.
What are some of the biggest festivals and holidays in Singapore?
Singapore has a lot of different festivals every year to show respect for the different religious and cultural backgrounds of its people. Also, the whole country gets together to celebrate important anniversaries. Singapore's government has made a number of important religious holidays and other important events official holidays.
The Great Singapore Sale is a shopper's paradise. The retail stores offer unbelievable discounts to up to 70%. Moreover, the country usually gets flocked with tourists who come from many countries to shop. Singapore houses the biggest brands be it fashion, clothes, accessories and electronics. So if you are planning to go shopping to Singapore, make sure to travel during this yearly festival time to avail the best discounts ever. You are sure to take home some extra luggage.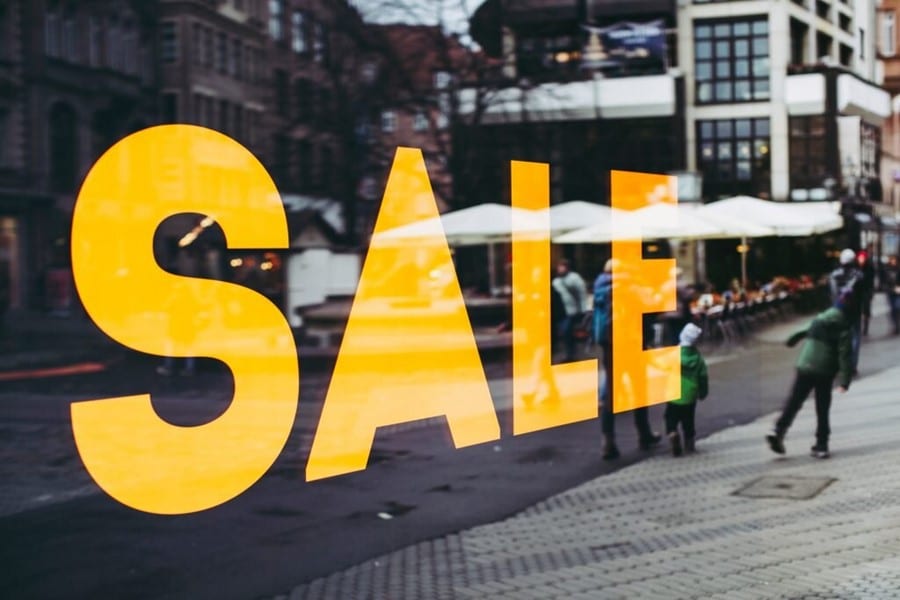 Key Attractions: Orchard Road, Tanglin Mall, Orchard Central
Major Activities: Orchard Road is a great place to shop for high-end brands like Dior and Armani. Then, the Tanglin Mall also has many well-known brands, like The Body Shop, AkaMotif, and many others. In the end, Orchard Central has many trendy shops like Levi's, Quicksilver, and Miss Empire, as well as many cafes with tasty snacks and drinks.
When: Months between June and July
Singapore has a massive Chinese population. The Chinese New Year is one of the biggest and longest holidays in Singapore. The celebration can be seen all around the island. Visiting China Town during this time is quite a feast. The streets are adorned with beautiful lights and there are performances and music all around. The streets are filled with hawkers selling decorative items, goods, and Chinese food. It is definitely one of the best times to visit Singapore.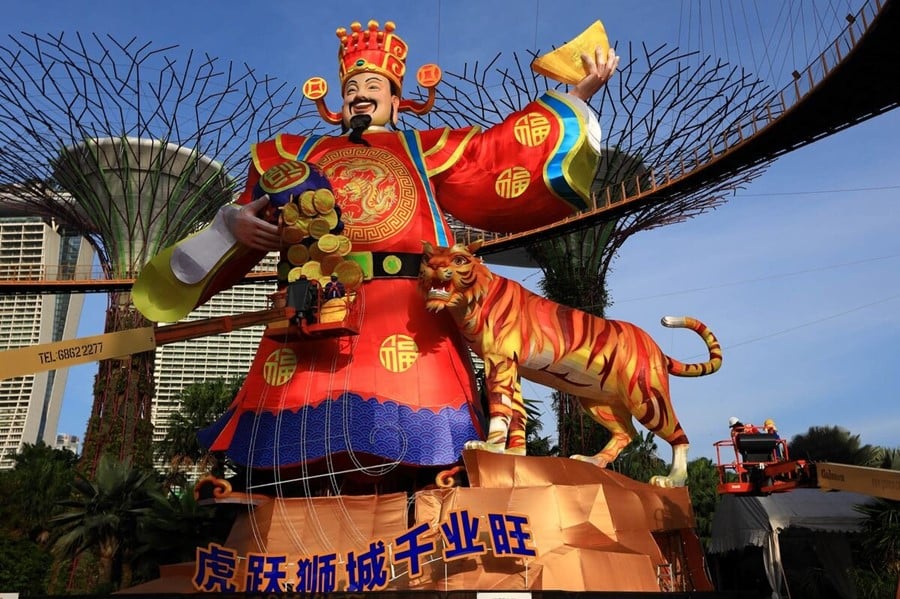 Key Attractions: Chinatown Street Light-Up, Chingay Parade, Wan Qing Festival of Spring, Spring Blooms @ VivoCity, Dahlia Dreams at Gardens by the Bay, Chinatown CNY Festivities, CNY Bazaar at Jurong Lake Gardens, Dragon Dance, Universal Studios Singapore. 
Major Activities: You should take part in history walks, guided tours, craft projects, lion dance and drumming shows, and other events. Artists have made lanterns that bring cubs and tigers to life in Chinatown, which is amazing for tourists to experience. Ocean Restaurant is making its well-known afternoon tea last longer. Also, don't miss the exhibition Nian Hua: Of Deities, Guardians, and Auspicious Art. It features nian hua, which are traditional woodblock prints that are used to decorate homes for Chinese New Year. Fu Lu Shou, the well-known manta, is here to make sure you have a great time.
When: Sunday, January 22
The Singapore Heritage fest is generally scheduled in between end April to mid-May. It is a celebration to display and celebrate the vivid culture and heritage of the country. It is garnering quite an interest among first-timers who get to witness the true authentic Singaporean culture. Authentic Singaporean Street food is a major attraction to the heritage fest.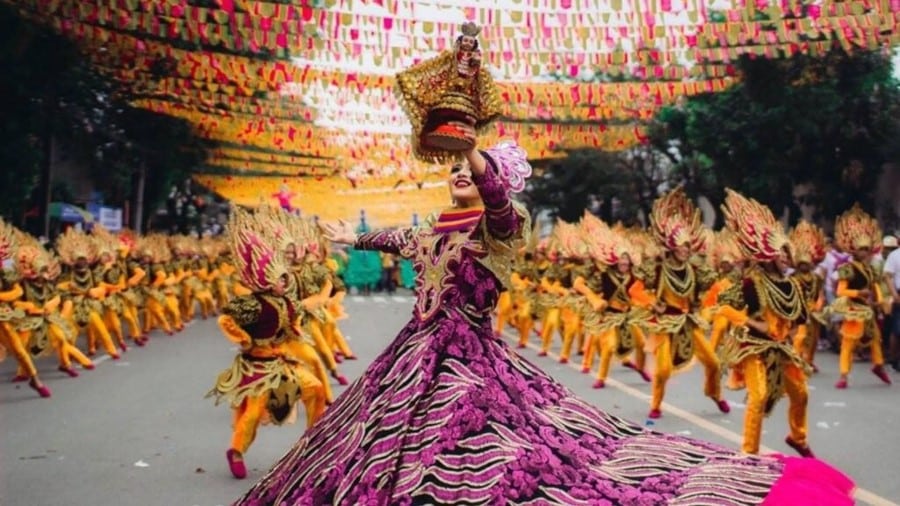 Key Attractions: Chinatown, National Museum of Singapore, Mount Faber, Insect Farm Tour
Major Activities: During Singapore Heritage Fest, you can get a new look at the city's long history by going to Chinatown. Join us as we walk around the Boon Keng area to learn about its interesting Kampong history, brick kilns, and new buildings along the Kallang River. The "Homeground" show in the Stamford Gallery of the National Museum of Singapore is one of the best parts of your trip.
Participants can also take part in a wide range of programs and courses such as the "Singapore's Natural History in 3 Plants" session. Riders in Singapore can take part in the event's unique Ride & Discover program as they go about their daily lives.
When: May or July
The National Day of Singapore is 9th of August. The national parade at the Marina Bay is a very important celebration. Over 25,000 visitors come to see the 45 minutes parade followed by magnificent fireworks which dot the sky. The national flag colors red, white and blue are adorned by most people and are etched across the magnificent Singaporean skyline.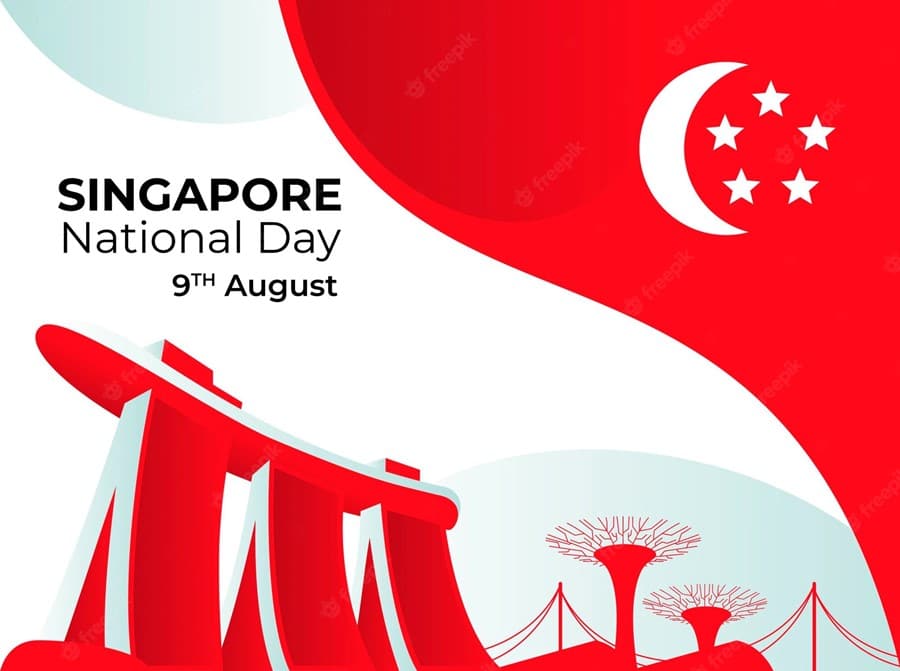 Key Attractions: National Day rally and parade, Fireworks at Marina Bay, Heartlands, Singapore Garden Festival, Hydrangea Holidays Floral Display, Our Tampines Hub, National Museum Singapore, One Punggol
Major Activities: You just can't miss the free fireworks show on Marina Bay every National day. Don't miss the National Museum of American History when it's all lit up. Now is the time to visit Singapore's many museums and art galleries if you're interested in its history and culture. Heartlands is also a great place for families who want to spend time together and see some entertaining shows and interesting displays.
When: August 9
Singapore Fireworks Festival
This festival is celebrated around the national day in Singapore. It is a 4-day affair which is held annually. Almost 300,000 visitors come to see this spectacle. Thousands of fireworks are displayed across the night sky. It is an extravagant celebration and a visual delight for those who visit during the early week of August. The fireworks are specially brought from all over Europe.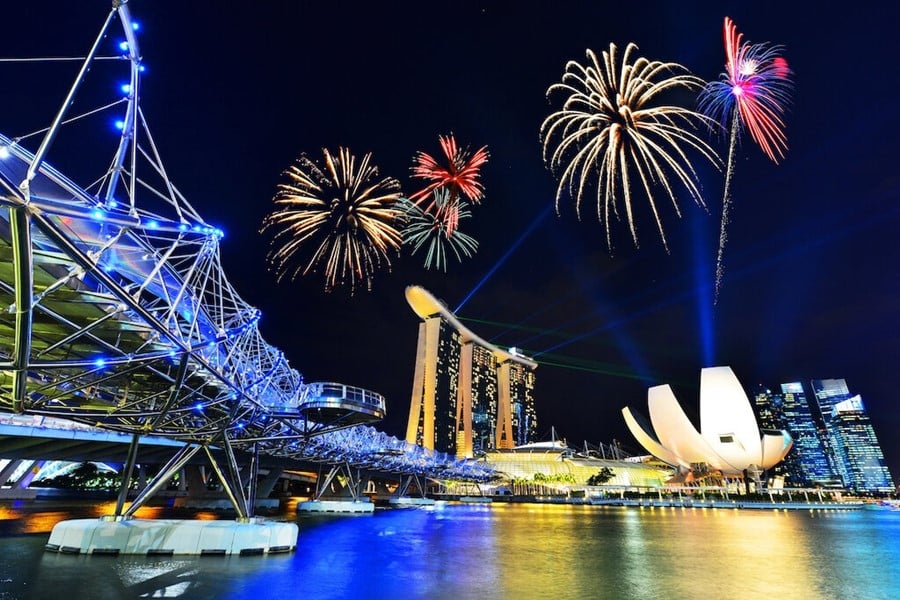 Key Attractions: Marina Bay, Star Island, 
Major Activities: Some of the best places in the world to see the city's spectacular fireworks show are in Singapore. If you want to see the fireworks from a high point of view, the Singapore Flyer is the best place to go. Another great place to watch the fireworks show is from the rooftop bar Smoke & Mirrors, which is right above Singapore's National Gallery. You will also love going back to OverEasy not only because of the beautiful scenery but also because of the delicious food.
When: August 9
Whoever you are traveling with, be it with a family with kids, or just couples, or among friends, the best time to visit Singapore is definitely in between Christmas. The Christmas decorations are adorned all across the islands. The Orchard Road and the malls are filled with festivities. Shopping and celebrations are at a peak. The night clubs, hotels, pubs feature special music and offers. It is definitely the best place to celebrate Christmas.
Key Attractions: The Christmas carnival on the Orchard road, Changi Airport, Jewel Changi Airport, Christmas Wonderland, Poinsettia Wishes At Flower Dome, Universal Studios Singapore, Christmas Village, Park Hotel Alexandra, Singapore Zoo
Major Activities: Go to a party on Christmas Eve if you want to drink and dance and have a good time. At One 15 Christmas Boat Light Parade, you can see yachts decorated for the holidays. At the Rainforest Lumina attraction at the Singapore Zoo, you can feel like you're in a winter wonderland. This is a multi-media show that blends nature and technology with cutting-edge light, projection, and music. This year, Poinsettia Wishes at Gardens by the Bay is a wonderful way to start the holiday season.
When: 25th December 2022
Everyone in Singapore takes part in the Singapore Food Festival, not just people from the Village. If you love Cantonese cuisine and seafood, this would be the place on top of your bucket list. Though people seldom travel only for food, visitors coming to Singapore can enjoy limitless options to eat and explore.

Key Attractions: Festival Village, Chef Arena, SFF Program, SFF Free-to-Air Virtual Masterclasses
Major Activities: Hainanese chicken rice, chili crab, and laksa are some of the most common foods in Singapore. You should definitely give it a try. Every year there is a different theme and you should definitely visit at that time if you are a foodie. This year, the festival village was the main draw, but tours and cooking classes are available for those who want to try something new. During the event, people can watch some of Asia's most famous chefs give nine free online masterclasses. 
When: Usually at the last two weeks of July.
The Dragon boat festival occurs on the fifth day of the fifth month in the Chinese calendar, which generally falls in June. The dragon boat race is common among citizens and international rowers who come to participate in the race. People celebrate by beating drums, eating rice dumplings and drinking wine. The celebrations are also referred to as the dumpling festival.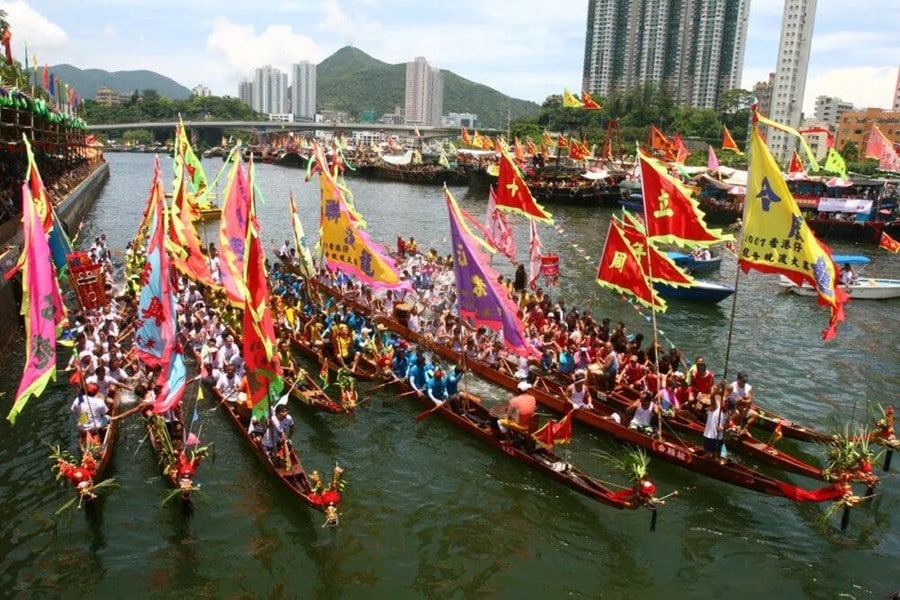 Key Attractions: Kallang River, Bedok Reservoir, DBS Marina Regatta
Major Activities: Dragon Boat Festival is a big part of the two main traditions of the festival: eating Zongzi (rice dumplings) and going to boat races. Also, one of the most important parts of the Dragon Boat Festival seems to be the Hanging of Calamus and Wormwood. In this tradition, these herbs are hung from the door frame to keep away sickness and bad luck. You are welcome to join in. You could also drink realgar wine and race dragon boats.
When: 5th day of the 5th month of Chinese Lunar Calendar
Singapore International Film Festival
One of the most prestigious film festivals in East Asia, the Singapore International Film Festival, or SGIFF is a major event that all filmmakers and cine-enthusiasts look forward to. There are participants from all over the world. About 200 films and documentaries are featured during the festival. The festival authorities also conduct workshops and organize seminars for the people who are interested in participating. It is a festival to look forward to. It is appreciated and visited by many people who come to see the ground-breaking, path changing movies done by Asian artists.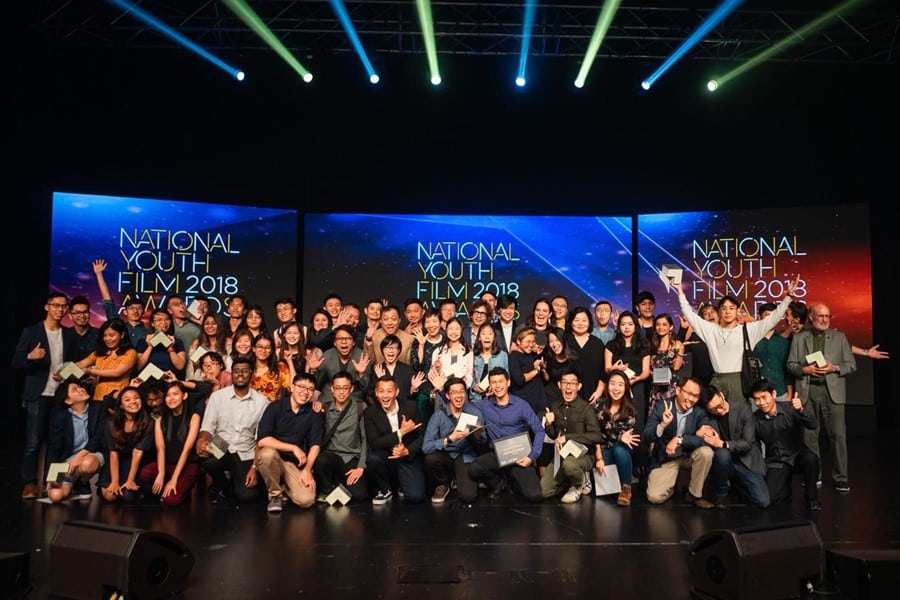 Key Attractions: Excellent Southeast Asian and Singapore Movies
Major Activities: Every year, there are brand-new segments that show a wide range of independent films from different genres, which both casual viewers and diehards will enjoy. Fans of movies will love this area as a vacation spot. 
When: October – November – December
Singapore International Arts Festival
Singapore celebrates art. If you are visiting the country in between May and June, you may see parks filled with artists, theaters featuring varied plays, operas, dance shows and musical nights galore. The Singapore International Arts Festival is an annual festival celebrated all across the Lion City.  Most of the shows are free while some come with entrance fees. It is a mesmerizing experience and marks a cultural confluence as most of these artists are foreigners who travel to come and show their art.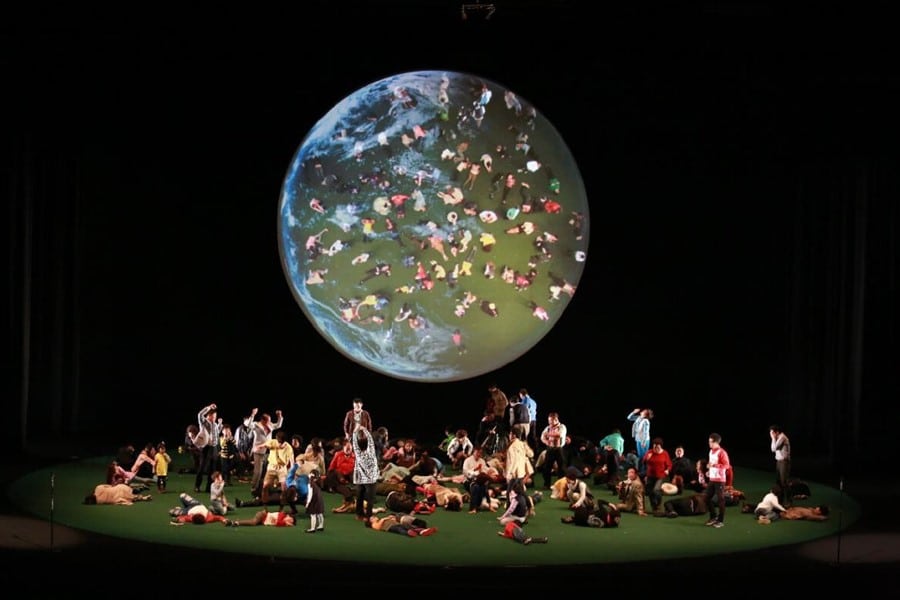 Key Attractions: Esplanade Theater, Festival House, Victoria Theater, Old Parliament Lane Singapore, The Shaw Foundation of Symphony
Major Activities: If you like art, you will find a lot to like at this festival, from showings of films from around the world to painting competitions. Over 2,000 Singaporean and international artists show their work at the Festival, which draws an average of 218,000 people each year. Tribal and folk music and dance from all over the world, along with the bright colors and delicious smells of ethnically inspired products and foods, often start the celebrations in a traditional village.
When: May or June
Vesak Day is a Buddhist celebration. It occurs on the first full moon day of the fourth lunar month. For the people who follow Buddhism, this special day is celebrated by following a strict vegetarian diet. Some release captive birds and animals, to mark the holiness of the day.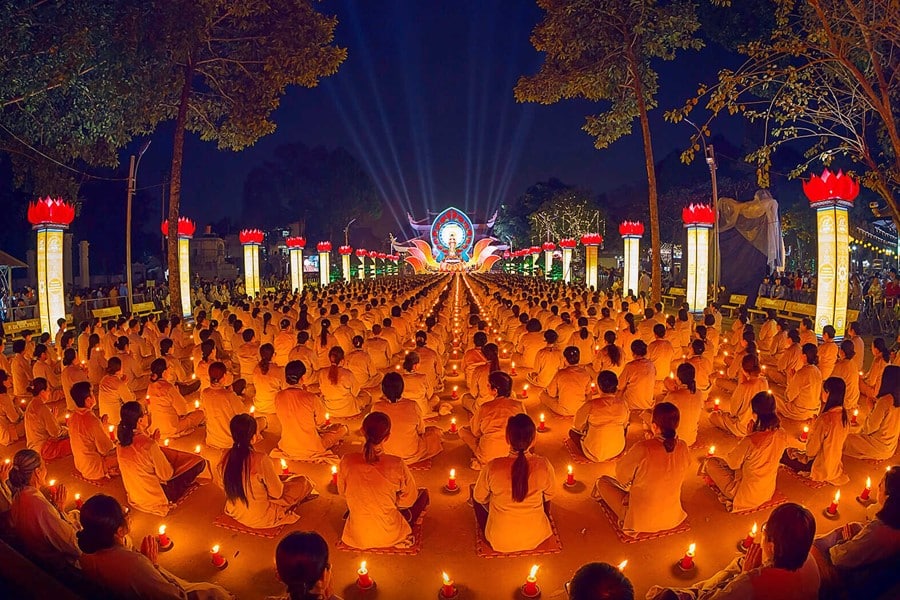 Key Attractions: Kong Meng San Phor Kark, Siong Lim Temple on Bright Hill Road, Buddha Tooth Relic Temple, National Museum
Major Activities: Many Buddhists do the "three-step, one-bow" practice for two hours on Vesak Day and tourists from all over the world love to see them from far away. People who worship Buddha often light lanterns and carry them around the streets as a form of worship. The Buddha Tooth Relic Temple and Museum is a must-see for anyone who wants to know more about the Vesak Festival. Amazingly, the event is made even more impressive by the fact that usually more than 2,000 lucky lanterns are used to light up the temple.
When: April or May or June in leap year
Thaipusam is a two-day holiday that is celebrated every year. It is a time for people to thank the gods and ask for their help. Most devotees wear brightly colored clothes and carry pots of milk or wooden "kavadis" with brightly colored decorations on their shoulders. When people use sharp skewers to stab their tongues, cheeks, and bodies as a form of self-mortification, it can send a chill down your spine to watch.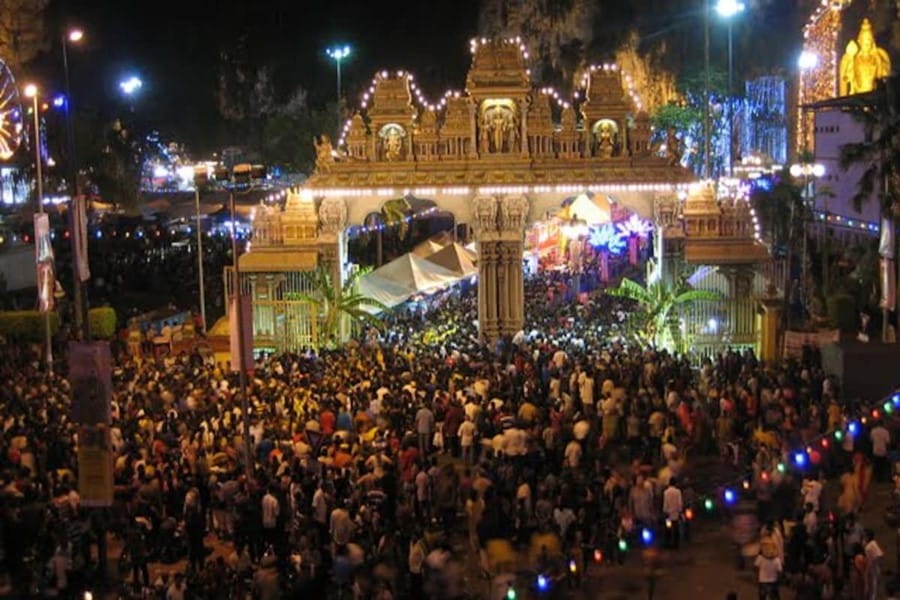 Key Attractions: Sri Srinivasa Perumal Temple at Serangoon Road, Sri Thendayuthapani Temple at Tank Road
Major Activities: During their journey, worshipers will be honored and will dance in certain places as they walk through the streets wearing sharp spikes. Tourists love to see their journey and devotion towards god. The people in the community are happy to share their happy meal with anyone who wants to join them in celebrating. Also, don't forget to stay for the parade's big finish. 
When: January
Which festival or holiday is the most popular among tourists?
Singapore has a lot of different cultures as most of its people are Chinese, Malay, and Indian. Singapore has become known as a cosmopolitan city because of the recent influx of immigrants, which has also made the city's culture more diverse. Different celebrations and holidays are made so that everyone can enjoy them. We've already talked about some of them. New Year's Day, Deepavali, Hari Raya Puasa, the Hungry Ghosts Festival, the Mid-Autumn Festival (also called the Mooncake Festival, Lantern Festival, or Thimithi), the Festival of the Lights (Hari Raya Haji), the M1 Singapore Fringe Festival, and many more are a few examples we've not mentioned.
People like to visit during the Chinese New Year, which is also called Lunar New Year or the Spring Festival. Visitors from all over the world go to China every year for the Spring Festival, which is seen as the biggest and most important event of the year. They like to walk around the night markets, where the lights and festivities are sure to mesmerize them. This is absolutely the most popular festival among tourists, according to data.
Traveling to Singapore by air is the best way to attend the Singapore festival and holiday. singapore holiday is the biggest and most popular event in the city, attracting visitors from all over the world. By traveling to singapore by air, you will be able to enjoy the festival to the fullest and make the most of your holiday. There are a number of things to consider when choosing an air travel provider, such as singapore airlines, but with a little research you will be able to find the perfect option for you. Find out the best flight deals of Singapore.
Singapore is a great place to visit any time of the year because there is always a festival going on. The best thing about Singapore is that there is always a reason to party with the locals, no matter what time of year it is. A city with a lot of different festivals may give visitors a taste of the area that is hard to find in other places.
If you want your trip to Singapore to be memorable, you should learn about the many festivals and choose one to attend.
Read also: Before travel to Singapore as a Tourist